LifeSize Conference 200
Full HD Telepresence, Tailored to your Environment
Superior telepresence is now achievable beyond the board room.
Now more users in more places can realize the benefits of telepresence to improve their Productsivity, working face-to-face with colleagues in remote locations.
LifeSize® Conference 200™ is the next step in telepresence - Full HD video, 1/3 the bandwidth of comparable solutions and designed for deployment beyond the fixed telepresence suite.
With the LifeSize Conference 200 solution, you get the most advanced technology and most immersive experience available today: Full HD, 1080p30, 720p60, and 720p30 dual streams to share data and documents in full motion, high definition. You also get an embedded multipoint control unit (MCU), complete with transcoding.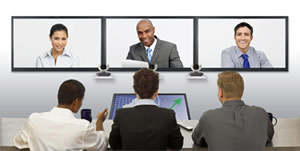 Flexibility is made simpler than ever.
Our exemplary attention to the human experience ensures that the LifeSize Conference 200 system is easy to use. And with built-in AMX panel software, calling is made simple with one-button dialing. Committed to open architecture, our proven interoperability provides complete integration into your existing communications infrastructure.
LifeSize Conference 200 means the end of costly, proprietary telepresence solutions that are too expensive and too awkward to deploy throughout your organization.
Human clarity becomes…remarkable.
Beyond technologies, over and above service and support, LifeSize Conference 200 enables facial expressions, body language and gestures to transcend geography. Your work teams, wherever they are, get incredible, lifelike clarity.
Review the LifeSize Conference 200's capabilities. You'll discover remarkable video communications that transports user experiences across cities, countries and continents. The LifeSize difference is the LifeSize experience