LifeSize Conference
EXPERIENCE LIFESIZE® PRESENCE
Telepresence is the experience of being present – an immersive video communications experience that allows you to meet with remote participants as if you're sitting in the same room. Lifesize images in high definition, natural eye contact with superior camera technology and placement, along with crystal clear audio enable a rich communications experience.
LifeSize® Conference™ is HD Telepresence done right.
Telepresence is no longer limited to the executive board room. LifeSize Conference is the first telepresence suite that can be tailored to your environment – providing just what you need, where you need it. LifeSize Conference offers telepresence quality, unique flexibility and unmatched price performance.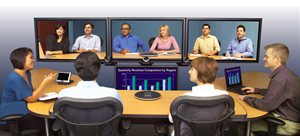 Immersive Telepresence Quality
LifeSize Conference delivers stunning high definition video – 30 frames per second and 1280x720 screen resolution. Wide band, natural audio and built-in data sharing enrich your communications experience.
Unique Flexibility
LifeSize Conference includes three HD codecs, multiple HD cameras and the LifeSize Phone. LifeSize Conference accommodates three HD monitors, one data monitor, and a touch screen control panel. Like all LifeSize systems, LifeSize Conference is standards based and fully interoperable to easily fit into your existing environment. Users can choose between LifeSize Conference telepresence mode or LifeSize® Room™ mode - giving you the flexibility to create a telepresence experience or to use the full functionality of a LifeSize Room system for both point-to-point and multipoint calls. LifeSize Conference scales to meet your specific needs.
Unmatched Price Performance
LifeSize Conference brings telepresence within reach. LifeSize delivers price performance that enables telepresence to be deployed beyond the boardroom.