LifeSize Room
Featuring Rich High Definition Video
LifeSize® Room™ combines an immersive, high definition video experience with a rich set of features to deliver a powerful, flexible, and easy-to-use video communication solution.
Like all LifeSize Products, LifeSize Room delivers telepresence-quality, high definition video and audio for a realistic, authentic experience. It makes you feel like you are there, allowing you to do more yet travel less.
An ideal fit for large conference rooms, LifeSize Room allows you to establish video calls with multiple participants through an embedded high definition multipoint control unit (MCU). 6-way Continuous Presence (with 4 visible participants), complete with transcoding is now possible in a compact, sleek unit that's less than half the size of comparable solutions.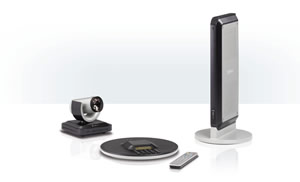 With the ability to supporting two monitors and two cameras, LifeSize Room delivers the ultimate in flexibility. Presentations, document,s and multimedia can be shared with all participants, enabling anyone with dispersed colleagues to collaborate more effectively. LifeSize designed video communications with absolutely simple usability in mind. Rely on video communications for face-to-face meetings when email and the phone are simply not enough.