LifeSize Team MP
Featuring Rich High Definition Video
LifeSize® Team MP™ combines an immersive, high definition video experience with a rich set of features to deliver a powerful, flexible, and easy-to-use video communications solution.
Like all LifeSize Products, LifeSize Team MP delivers telepresence-quality high definition video and audio for an immersive, authentic experience. It makes you feel like you are there, allowing you to do more while traveling less.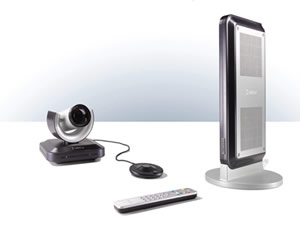 For connecting many people in different locations, LifeSize Team MP is a full-featured video solution. Establishing video calls with multiple participants is simple and easy with the embedded high definition multipoint bridge. View four callers simultaneously, without needing external equipment, advanced scheduling, or a technician.
Presentations, documents, and multimedia can be shared with all participants, enabling anyone with dispersed colleagues to collaborate more effectively.
LifeSize designed video communications with absolutely simple usability in mind. Rely on video communications for face-to-face meetings when email and the phone are simply not enough..